Small kitchen? Tips and materials for magazine-worthy decor
Interior design tells us that any space has the potential to look like a true comfort zone and with a design worthy of high decor. For this, it is only necessary to know the most optimal way to bring out the virtues of our spaces so that we can go from having a small kitchen to a functional, attractive area where to spend hours comfortably.
Next, we show you the best methods to give that innovative air to your kitchen. Various tips, as well as styles and decorative materials, that will simply make a difference forever. Because, who said having a small kitchen has to be bad news? Through this article, we will make you see that you don't need anything else and that, once you have everything to your liking, you will not want to exchange it for another.
10 ideas that will make your small kitchen your favorite space
Through these 9 tips, we will make you see that little more is necessary to appreciate the change you were looking for and make the most of your kitchen. By opting for simplicity and an environment where we avoid unnecessary visual noise, you will have the possibility to give it that unique and cozy value, where you have everything at hand and move lightly between stoves. Who knows, perhaps now you will discover a new facet with your renewed kitchen.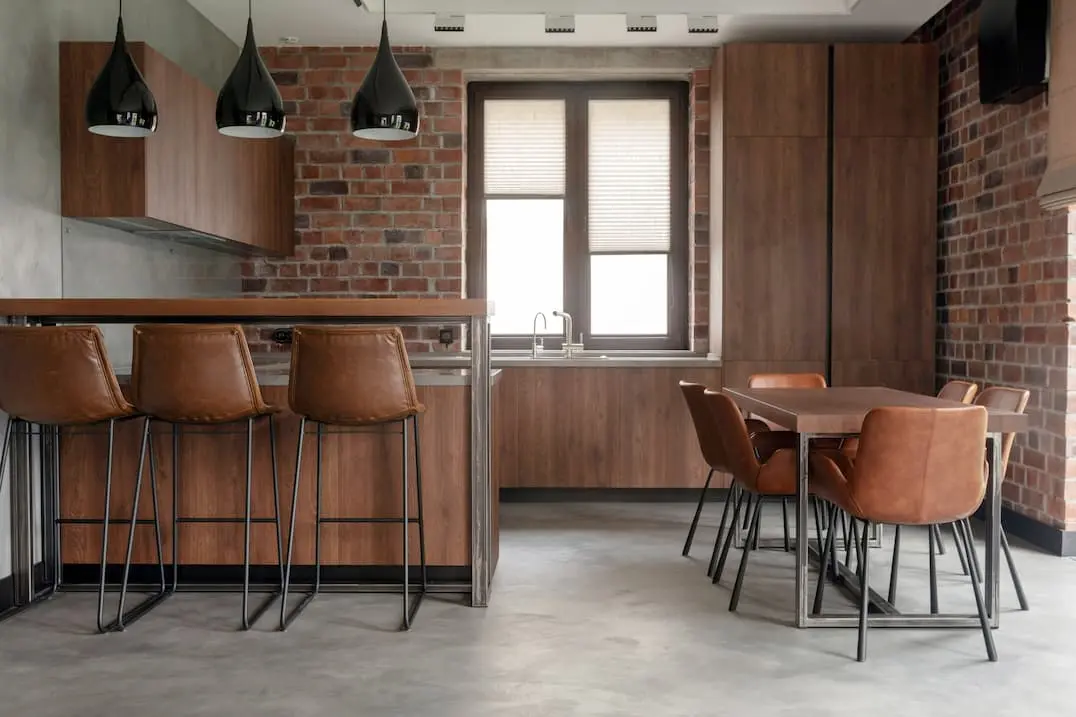 1. Sliding doors for greater efficiency
Something that is obvious, but that is not always taken into account. With sliding doors, you will save a lot of space and create a free path through which to move without feeling obstructed. It's a simple and really useful option, which you'll noticeably appreciate, especially if there's more than one person in the home.
2. Glass doors, the ally of lighting
It may be the case that due to the architectural shape of your kitchen you can't install a sliding door system, don't worry, because we have several perfect options for your case. The use of doors with glass panels will be a fantastic option, which, despite not saving any space, does pleasantly affect psychologically, creating a sense of greater breadth and allowing the entry of more light. An efficient solution worth considering.
3. Or directly... Say goodbye to doors
And if what you're looking for is to do away with problems and opt for maximum functionality and breadth, in that case, say goodbye to the doors.
One of the latest design trends that is proving a real success in home decoration. By removing the door, it allows you to make the most of the m2 of your kitchen. A way to get rid of all visual stress and allow more lighting in the area. In this way, you will create a direct route that connects with the rest of the house, giving it a greater sense of breadth, as well as better fluidity.
4. Make the most of the walls
The walls are empty spaces that through the use of shelves, cabinets or other objects, you can give a function that helps improve the distribution of your kitchen. It's not about filling it up like it's a library, it's advisable to leave certain empty areas that allow for an optimized space without overloading the eye.
5. Do you have natural light? Make it prevail
One of the key aspects to ensuring a more spacious appearance of your small kitchen. Light and above all, natural light, is a great ally to give your rooms a lighter and more livable atmosphere, inviting to spend hours in that room. Take full advantage of all the entrances of natural light, avoiding placing furniture that interferes in the passage of light, such as curtains, blinds, shelves, among others.
6. Light colors for less overwhelmed settings
A simple way to gain brightness in our small kitchen. Professionals recommend decorating both the walls and the furniture, the countertop and floor with light colors in order to generate an open and dynamic appearance of the space.
Interior design specialists recommend decorating with neutral colors such as off-white, blush, beige, sand brown; as well as opting for pastel tones in shades of green or blue. To finish off the icing on the cake, it is recommended to play with contrasts by decorating small details through natural elements such as clay pots, wooden shelves, natural fiber baskets... No doubt, it will generate a more unique, attractive and cozy style.
7. Surprise! Choose a bar instead of a table
Don't have enough space for a table? The solution is to get a bar and stools. A simple and effective way to create a small area in your small kitchen dedicated to rest. The bar should protrude from the wall just enough to support the utensils on it and be able to store the stools below. That's called taking advantage of the space at an expert level.
8. Every inch counts. Use hangers!
You would be surprised how useful it can be to put a small protrusion on the wall. By dedicating a minimum space, we take advantage of the walls to place on them all kinds of objects or materials that are necessary in the kitchen, giving us the luxury of having them at hand.
9. Handleless furniture conquers the interiors
One of the latest interior design trends, handleless furniture! One of the most efficient methods to give your small kitchen more space. Functionally, it allows us to make the transit areas more fluid where there will no longer be a chance of bumping into any element. Its psychological potential is no less. By eliminating the handles, a freer space is created with clean, straight lines that unconsciously create a feeling of spaciousness translated into less environmental stress.
10. Optimize space with extendable tables
When it comes to making the most of space, any method is good. Extendable tables have been working for decades and today, they are still a real success. It is a comfortable way to have a table for what is necessary and be able to expand it when required.
Stylish designs for your small kitchen
Over time, interior design has created various forms of distribution that promote efficiency in the use of spaces in small kitchens. There are several styles, each with its pros and cons, but all truly effective getting the most out of the room. Below we will show you the 4 best-rated distributions by professionals in interior design: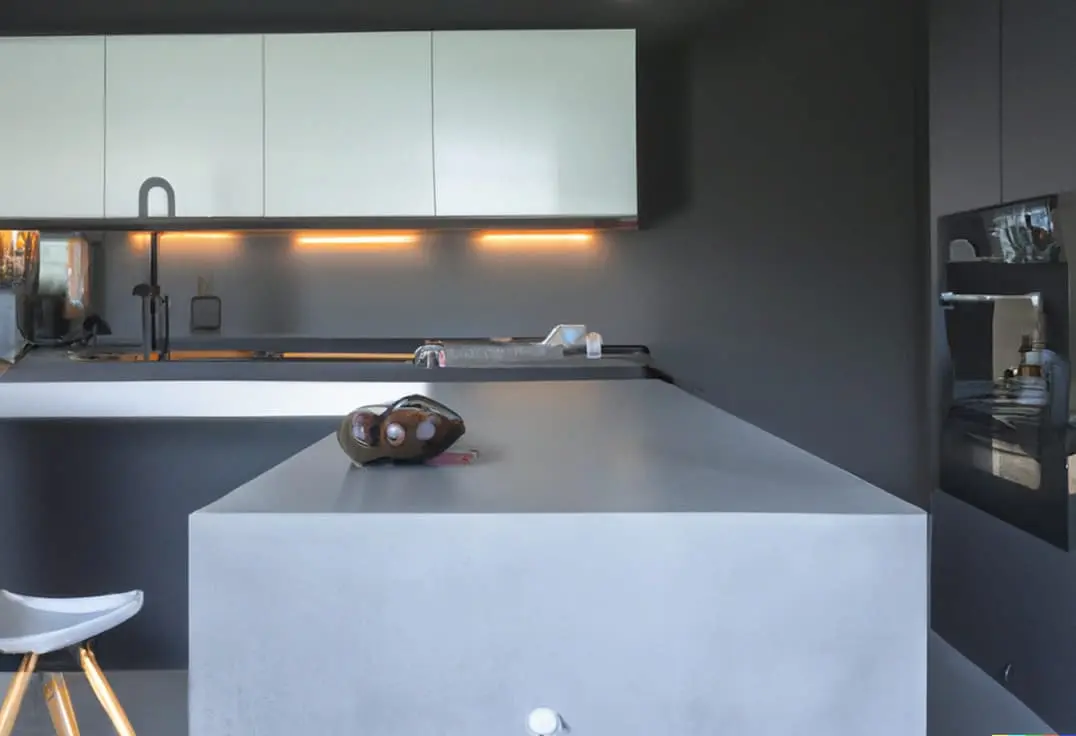 None
American Kitchen
One of the most popular options that never disappoints. What to do if your kitchen is small? Make it bigger by directly joining it with the living room. This is the theory behind this style. It allows us to create a space where what we commonly divide into two merges, thereby eliminating the sense of stress between walls and gaining in breadth and lighting.
Advantages
Greater natural light input: it may be the case that your kitchen does not have a window or vice versa, that it is your living room that does not have a natural light input. Through this arrangement we provide better illumination, complementing one area with the other or even better, merging the light inputs from both.
Freedom of movement: no more having to carefully move around walls, burners, appliances, and everything a kitchen includes. Opening the kitchen allows you a comfortable way to move that you will greatly appreciate.
Disadvantages
Ventilation: perhaps the biggest drawback, ventilation after cooking. It will be inevitable that after cooking the smoke and smells do not spread to the rest of the house, specifically to the living room.
Privacy: the living room will lose that cozy value that some people adore so much. You will have a larger space, perhaps too much for some people.
U-shape Distribution
One of the highly functional designs, U-shaped kitchens, which allow to make the most of all available space. With this distribution, we create an almost perfect imaginary triangle, connecting the three most relevant points of the kitchen: burners, sink and refrigerator.
Advantages
Versatility: it grants us great ease to exchange different work areas or move appliances.
Access: it facilitates access to cabinets, drawers, appliances... thanks to the proximity it offers.
Space: a distribution valid both for small spaces and for large ones.
Disadvantages
Lighting: it can lead to shadows in work areas if does not have good lighting.
Access: the furniture located in the corners is more difficult to access.
Isolation: it does not allow to be integrated with open environments; it forces us to generate an independent area.
L-shaped Distribution
A fantastic way to create a wide open space, which enhances comfort through such a simple and intuitive layout. It is usually a layout with a large countertop, accompanied by an accessible work area that gives place to a satisfying maneuverability.
Disadvantages
Storage: provides enough space to have a large storage capacity.
Work area: an efficient layout that prevents the cooking area from intersecting with the sink, allowing for comfortable and safe cooking.
Comfort: having an extensive countertop gives greater comfort to carry out any task.
Cleaning: it leaves a clear path for cleaning by avoiding nooks and crannies with its efficient layout.
Disadvantages
Space utilization: despite being one of the most popular layouts for small kitchens, there are others that allow for less space to be used.
Placement of elements: it leaves a minimum margin to play with the distribution of furniture and appliances.
Functionality: unlike the "u" layout, in this case we will have to move more to access cabinets or appliances, since everything is further away.
Two Fronts Style
A distribution that allows us to create different work zones in such a way that we can make the most of the m2 we have available. This style is based on saving enough space for the key areas, such as: cooking areas, washing area and storage area. Its appearance would be like a line with two opposing zones. Usually, the distribution that is usually applied usually is one area with the high furniture: refrigerator, column with microwave and oven, cabinets... and another area with water on one side and stoves at the end.
Advantages
High efficiency: this is the best example of how to make the most of a reduced space. Nothing is left to chance and every m2 has a great function.
Everything Within Reach: if you are cooking and need something from the cabinet you just have to turn around and have it at your fingertips.
Disadvantages
Tunnel effect: if the corridor is very narrow it can cause a tunnel effect, so it can be somewhat overwhelming.
Maneuverability: It may happen that the kitchen does not fit satisfactorily and that with the passage of people one must avoid bumping into each other.
The most successful decorative materials in small kitchens
There are many decorative materials, but now we are going to show those that are ideal for creating a feeling of greater amplitude in your small kitchens. With the simple decoration of the floor or walls with the right material, we can make our kitchens look completely renovated and fresh. Next, we will name the materials most used by interior design professionals, for the renovation of a small kitchen. Pay attention!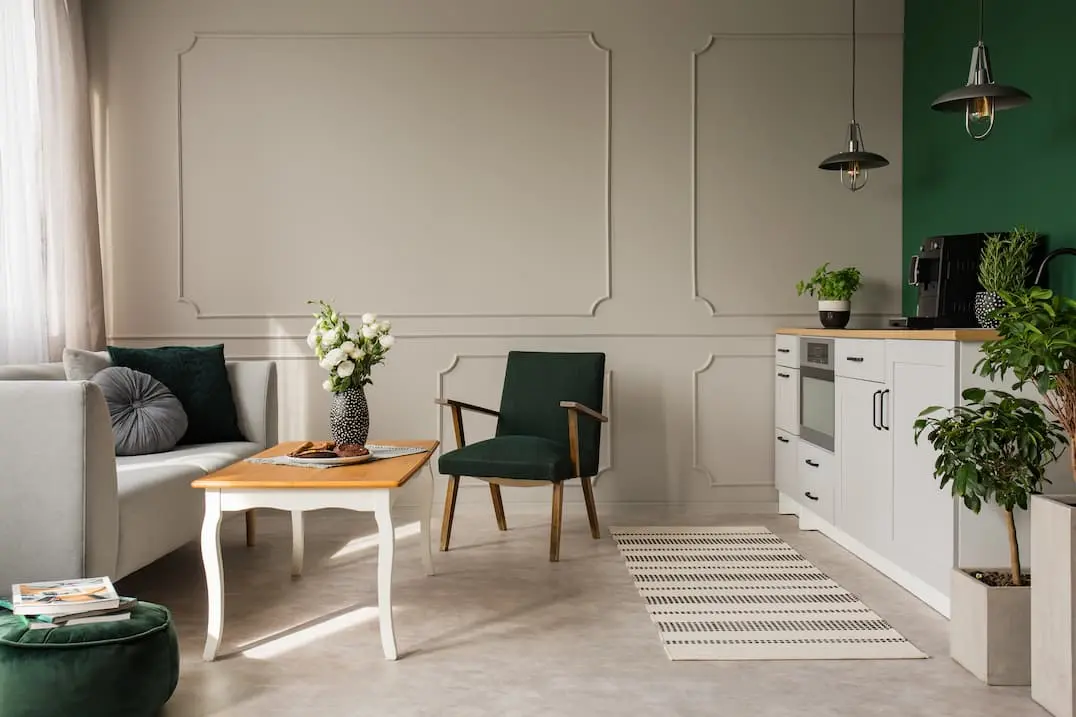 Wallpaper or brick/wood effect wall
A simple, cheap, and quick solution that can generate the result you were looking for. Decorating one of the kitchen walls with a different design, such as brick, will help to create a visual division of the areas. The contrast will generate a very attractive effect and will create a more welcoming and charming area. Some of the options for this alternative are usually: wallpapering or placing decorative plaques that imitate wood or exposed brick.
Vinyl flooring for a more attractive look
One of the decorative alternatives that top the latest trends in interior design for kitchen design or other rooms, such as bathrooms, for example. One of its great advantages lies in the cost, as it is much cheaper compared to other more traditional options: porcelain and ceramic tiles.
With this coating, your small kitchen will gain in design, being able to choose between the drawings or shapes that you most desire, giving rise to a floor with character. A very grateful material, as its cleaning is extremely simple, and it is also resistant to stains and moisture, a necessary element in the kitchen.
Mini tiles are a trend
And we leave the floors to talk about a fantastic option for wall covering, mini tiles. Don't be mistaken, in this case we are not talking about the traditional square and white tile with which most kitchens have been decorated. In this case, we leave that concept aside to move on to another variety of tiles, smaller and with greater decorative potential.
Through this alternative we can give a breath of fresh air to our small kitchen, recreating attractive mosaics on the walls, or decorating them with hydraulic tiles. An original way to add color to this room without overloading it excessively.
Another much cheaper, faster and equally effective option, is to give your tiles a completely renewed look with our Emottion tile paint. A fantastic solution with which to obtain a high-performance finish
Microcement, the revolution of decorative coverings
We couldn't miss the crème de la crème, themicrocement. A decorative high-performance covering that has been setting trends for years, representing a real decorative revolution in the interior design of small kitchens. This spectacular product, only 2-3 mm thick, provides us with a material that can be applied without the need for construction work and, in addition, avoids generating any kind of rubble, making it a magnificent product for interior renovation.
Thanks to its unique aesthetic, it manages to give kitchens and any other space where it is applied a more expansive appearance, due to its exclusive jointless finish that offers that infinite and free aesthetic. It can be used on both walls and floors, offering designs of all kinds in order to guarantee results that completely satisfy the user.
Opt for quality through this decorative coating of surprising performance, trusting in a product that offers resistances out of the ordinary. Its potential ranges from its great strength against wear and tear from pedestrian traffic and abrasion, to changes in temperature, UV rays, humidity, stains and scratches. Microcement has the ability to give surfaces a wonderful non-slip finish, to avoid any type of accident, as well as an innate talent that makes it almost impermeable.
As you can see, the options are varied and you can always make your small kitchen look bigger if you take the right measures.