Outdoor microcement
Outdoor microcement is an excellent option for achieving a continuous, robust and smooth floor that integrates with the surroundings. It is ideal for coating terraces, gardens, porches, or patios with high-quality finishes.
Its application on exterior walls and floors allows large areas of land to be covered in one piece. This functionality translates into modern and easy-to-clean surfaces, as the lack of joins prevents dirt accumulation.
It is the perfect material to completely transform the exterior of a house. It allows innovation in decoration and creates personalized spaces that adapt to any decorative style.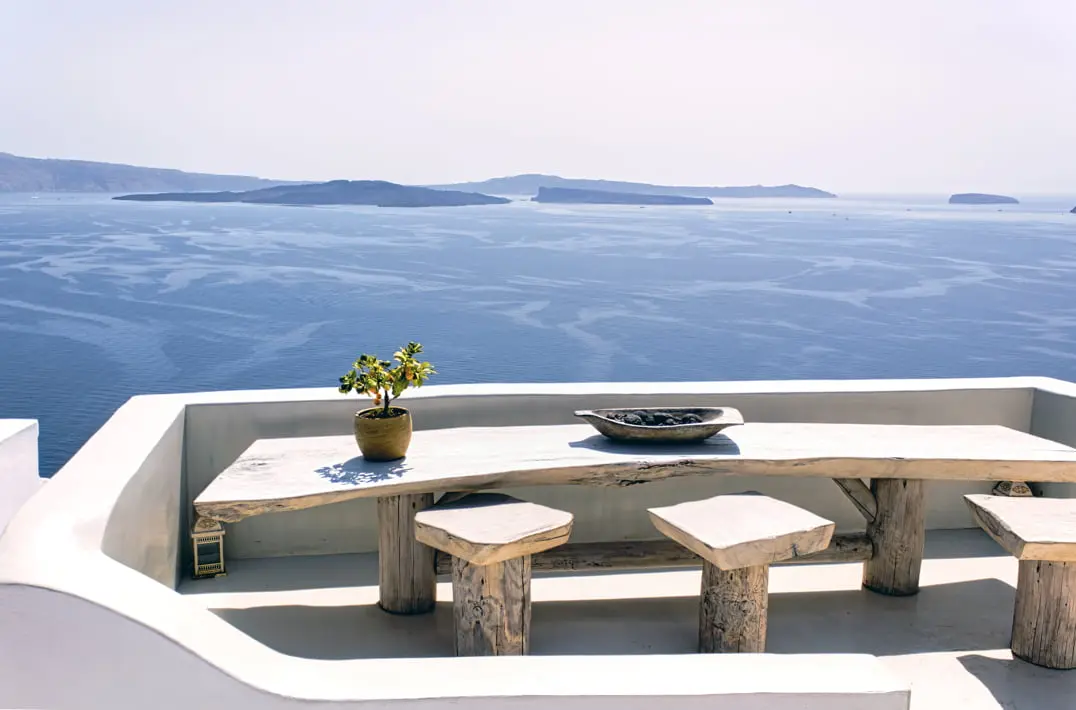 Why to apply outdoor microcement
Outdoor microcement provides high resistance. It is ideal for achieving anti-slip floors and surfaces.
It is a decorative coating resistant to sunlight, chlorine, and temperature changes.
Creates walkable and non-walkable surfaces of great hardness.
Despite its thin thickness, microcement is prepared for its application on exterior surfaces. Its hardness makes it very resistant to shocks, cracking, and weather inclemency.
It is very durable.
Waterproof: when applying a sealer, it acquires waterproof properties that make it the perfect material for coating facades, terraces, and stairs.
Resistance to cold, sun, rain, and snow. Besides being resistant to high temperatures, microcement offers hardness and does not produce smoke or toxic gases.
High adherence to any type of support.
It is a guarantee of safety in any exterior renovation project.
Allows coating walls, shelves or stairs and can be combined with other exterior materials.
Offers the creation of non-slip floors through finishes. The texture applied to the coating will be key to preventing falls and slips. The rougher, the less risk of slipping.
Does not allow the spread of bacteria, fungi or toxic agents.
Withstands wear, scratches and is resistant to abrasion.
Micro-cement gallery outdoors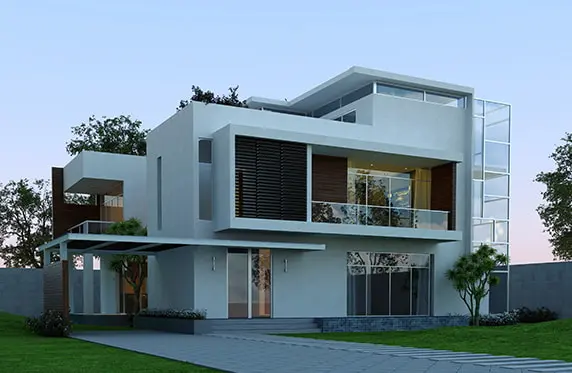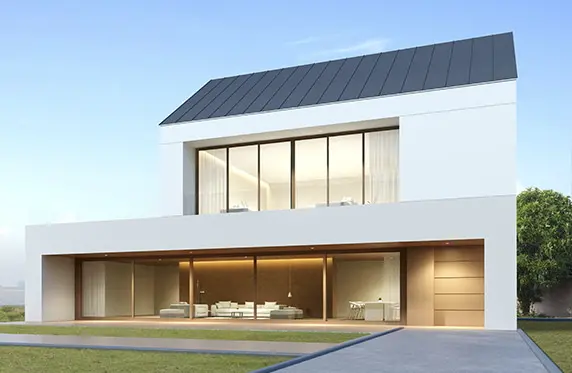 Micro-cement outdoors: where to apply it?
Micro-cement outdoors offers excellent decorative possibilities to completely change the appearance of any surface without the need for work. Below we detail the uses of micro-cement in outdoor areas:
It can be applied over floors to create pavements that enhance the spaciousness of the space. With a new floor, the transformation of the terrace or porch will be total.
Applicable on cement, tile and tile surfaces without the need to remove the existing pavement, since its thickness does not exceed 3 millimeters.
Prepared to coat exterior walls and ceilings.
Applicable over plasterboard and plaster plates.
Ideal for application in spaces that need a quick and clean renovation. It is perfect for refurbishing exterior surfaces in little time.
It can also be applied over metal surfaces creating beautiful decorative finishes.
Material suitable for coating stairs, which demand maximum care. It is a perfect space to achieve high decoration environments.
Micro-cement maintenance outdoors
To apply micro-cement outdoors it is essential to take into account weather conditions. It cannot be applied if it is raining or snowing.
The ambient temperature to apply must be between 20 and 25 degrees.
Once applied, 7 days must pass before stepping on the microcement pavement.
Apply the varnish more frequently, as outdoor surfaces are exposed to greater wear due to weather conditions and high temperatures.
Constant cleaning to prevent dirt from accumulating on the coating, whether on walkable or non-walkable surfaces.
Microcement outdoors to create privileged spaces
Outdoor microcement leads to the creation of privileged spaces that convey much more than just an architectural style. Through a homogeneous and waterproof finish, the coating is given a personal and modern style.
Microcement coating adapts to outdoor spaces transforming sad and dull places into sophisticated scenes, whether on horizontal or vertical surfaces.
A flexible material that gives an implicit order to the entire renovation or remodeling project with the highest performance. Microcement is the solution to achieve a unique and elegant design at the entrance of a house, the garden or the terrace.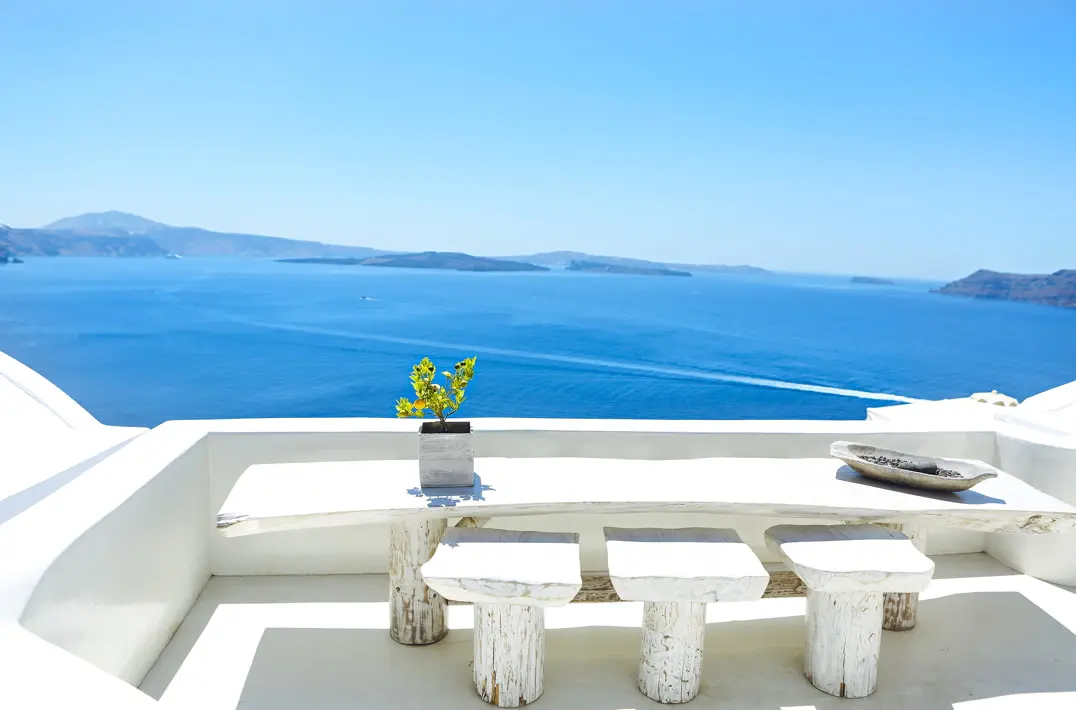 Are decorative qualities enough to apply microcement on outdoor surfaces? The answer is yes, as it is one of the materials with the greatest resistance for coating outdoor surfaces.
Its high resistance to cracks is the best guarantee to ensure high decoration finishes. Resistance is the glue that binds functionality with the aesthetic options that microcement offers.
Microcement on terraces
The terrace is a highly valued space to relax, disconnect and have direct contact with the outdoors. But often it is difficult to make the most of this part of the house. Microcement is a good ally to have greater width with a handcrafted and elegant design.
Microcement has the advantage that it adapts without problems to large and small spaces. It is an excellent option if the terrace is small or has levels.
Furthermore, it's a product that can play with different pigments, allowing for greater customization than with other coatings.
The application of microcement on terraces offers excellent results as it is a decorative coating highly resistant to water and abrupt temperature changes.
When applying the microcement on terraces it is necessary to take into account which product allows for a finish with a greater non-slip capacity. At MyRevest, the MyRock microcement is manufactured to cover exteriors giving a rocky appearance.
With the application of a sealing varnish, a waterproof coating will also be achieved to reinforce the safety of the surface.
When choosing the thickness it is key to know how many layers the terrace floor is going to need. A place where it rains frequently is not the same as an area where there is a constant exposure to the sun.
How much does outdoor microcement cost?
Microcement has become one of the most popular materials for wall and floor coverings both indoors and outdoors. The versatility and resistance it offers make it a very interesting option for any type of project, be it a home renovation or work in a commercial space.
When it comes to choosing microcement for an outdoor project, many may think that the price will be much higher than for an indoor project. However, this perception is completely wrong. The final price of outdoor and indoor microcement depends on the same factors.
The condition of the support is one of the most important factors to consider in the price of the microcement. If the support has dampness, is not stable or requires prior repairs, this will increase the cost of the work. In addition, the surface area in square meters to be covered and the difficulty of the work itself will also influence the final price.
In the specific case of swimming pools, it is true that the price of the microcement can be higher than in other outdoor or indoor projects. This is due to the fact that the application of microcement in swimming pools is much more complex and requires more expensive labor. In addition, it is necessary to use a microcement specially designed for swimming pools, which ensures its resistance to corrosion and discoloration caused by the chemicals used to maintain the water.
It is important to bear in mind that exterior microcement must be resistant to weather changes, rain, sun, snow, and ice. Therefore, it is necessary to choose a high-quality microcement with a warranty to ensure that the final result is durable and resistant.
In conclusion, the price of exterior and interior microcement does not vary significantly, except in the case of swimming pools. The key to ensuring a fair price and an optimal result is to look for companies specialized in the application of microcement and choosing high-quality products. This ensures a durable result that is resistant to weather conditions and daily wear and tear.
How to correctly apply outdoor microcement
Are you considering applying microcement to the exterior of your home? Excellent choice! Microcement is a very versatile and durable decorative coating that can give a modern and elegant touch to any exterior surface, from floors to walls.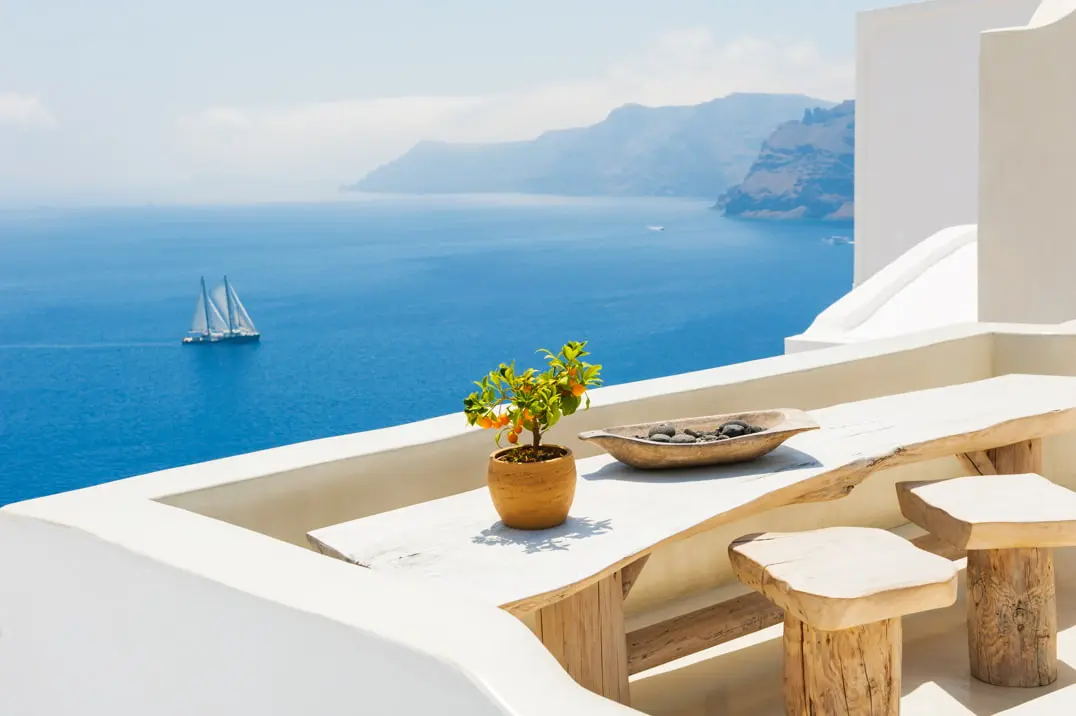 However, it's important to know that applying outdoor microcement requires a careful and thorough process to ensure a quality final finish. If you skip any step or do not perform them correctly, you may have problems with the coating in the future.
For this reason, we introduce you to the six key steps that you should follow to correctly apply outdoor microcement:
Condition the support: The first thing you need to do is ensure that the surface to be coated with microcement is in good condition. If there are cracks, moisture, or any other problem, you'll need to fix it before starting to apply the microcement.
Place the fiberglass mesh: The fiberglass mesh is a material placed over the support to reinforce the future microcement layer. This layer helps to prevent cracks and improve the resistance of the coating.
Prime the support: Before applying the microcement, it is important to prime the support with an adhesion promoter. This layer helps the microcement to better adhere to the support and prevent it from peeling off over time.
Apply the microcement base: Once the support is prepared, it's time to apply the microcement base. This material is applied in two coats and is the basis on which the final coating is built.
Apply the finishing microcement: After the microcement base has completely dried, the finishing microcement is applied in two coats. This material gives the final finish to the coating and is where colors and textures can be added to personalize the design.
Seal with varnish: Finally, the external microcement coating must be sealed with a good varnish. This step is very important to protect the coating from wear and tear and moisture.
In summary, if you want to apply microcement on the exterior of your home, make sure you follow these six steps carefully to obtain a spectacular and durable final finish. And remember, it is always advisable to have the help of a trained and experienced professional to ensure the success of the project. Let's get to work!
How is microcement applied on exterior floors?
If you are thinking of renovating the floor of your terrace or garden, microcement can be an excellent option for you. This material has become very popular in recent years for its resistance, durability and design versatility. But, how is microcement applied outdoors? We will explain it here.
The first thing you need to do is choose the type of microcement you want to use. We recommend MyRock, a microcement specially designed for exterior floors that offers great resistance to weather and abrasions.
The next step is to condition the support that will be covered with microcement. It is important that the support is in good condition and, if not, it must be repaired. To do this, a fiberglass mesh is placed on the future exterior microcement floor, which will help reinforce the coating.
Once the support is ready, a primer must be applied that favors the adherence of the microcement. It is crucial that this step is done correctly, as the quality of the final finish largely depends on it.
Next, the first layer of microcement should be applied. In this case, a layer of MyBase without pigment is used. Afterwards, two coats of MyRock are applied, the finishing microcement for outdoor floors that already comes pigmented.
Finally, it is necessary to seal and protect the outdoor microcement floor. To do this, a water-based acrylic varnish, MyCover, is first applied in two coats. Then, two more coats of a polyurethane varnish from the MySealant family are applied, to achieve even greater protection.
It is important to note that the application of microcement on exteriors is a delicate process that must be carried out by a trained and experienced professional. In addition, it is essential to follow these steps stringently to obtain an optimal and durable result.
In summary, if you're looking to renovate the floor of your terrace or garden, microcement is an excellent choice. By following the appropriate steps, you can enjoy a resistant, long-lasting floor with a personalized design that suits your tastes and needs. Don't hesitate to contact a professional for advice and proper application of outdoor microcement.
How is microcement applied to exterior walls?
Applying microcement to exterior walls is a great option to give a modern and elegant appearance to any facade. However, it is important to follow a series of steps to achieve a durable and attractive result. In this case, we will talk about the application of outdoor microcement on walls, which differs in some aspects from the floor application process.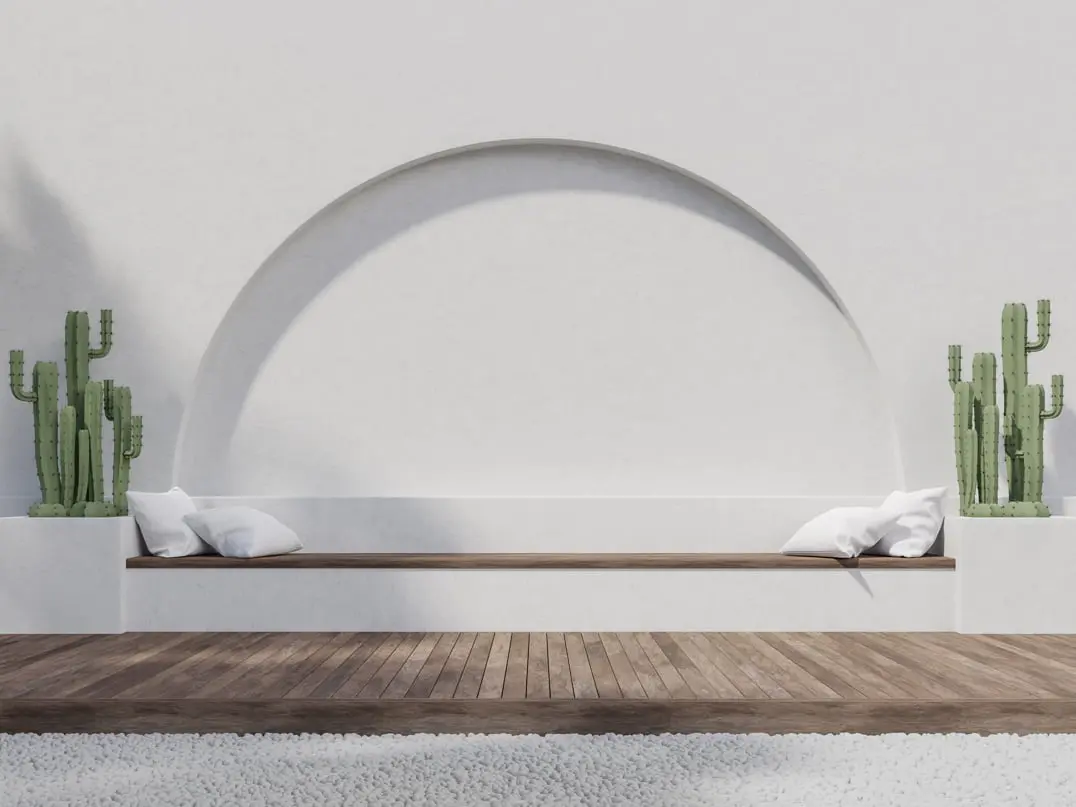 Firstly, it is important to note that there are several types of MyRevest microcements available to apply on exterior walls: MyWall, MyWall OC and MyReady Go!. Each has its own characteristics and advantages, so it is important to choose the most suitable for each project. Once the type of microcement has been chosen, it is crucial to follow a series of steps for a proper application.
As for the application of outdoor microcement on walls, it is important to apply a double layer of base microcement for greater durability and resistance. That is, before applying the finishing microcement, a first layer of base microcement should be applied and allowed to completely dry before applying the second coat. This will ensure better adherence and a more long-lasting result.
Unlike the application of microcement on floors, where only a single layer of base microcement is used, in the application of outdoor microcement on walls, it is necessary to apply two layers for greater resistance and durability. After the second layer of base microcement, the finishing microcement is applied.
For the application of the finishing microcement, any of the previously mentioned MyRevest microcements can be used, depending on the needs and preferences of the project. Once the layer of finishing microcement is applied, it must be allowed to dry completely before proceeding to seal and protect.
To seal and protect the outdoor microcement on walls, two layers of MyCover water-based acrylic varnish, and two additional layers of one of the MySealant family's polyurethane varnishes must be applied. This will ensure adequate protection of the outdoor microcement on walls and a durable result resistant to weather conditions.
In summary, the application of outdoor microcement on walls requires following a series of specific steps to achieve a durable and attractive result. It's important to apply a double layer of base microcement before the layer of finishing microcement, and to seal and protect the coating with a series of varnish layers. With these steps, an elegant and modern facade can be achieved that withstands the test of time.
Outdoor Microcement for Professionals: MyRock
The use of microcement in outdoor areas is becoming increasingly popular thanks to its versatility and the numerous benefits it offers. There is a wide variety of microcements that can be applied in outdoor areas, but if you are looking for a product that offers the highest performance, MyRevest offers a complete solution: MyRock.
MyRock is a high-quality microcement that has been specifically designed to be used in outdoor areas. It offers exceptional resistance to abrasion, transit, and temperature changes, making it the perfect choice for coating surfaces exposed to the weather. In addition, its non-slip finish provides safety in high-traffic areas and its appearance is similar to that of natural stone.
At MyRevest, we take pride in offering a wide range of high-quality microcements, all of which can meet the specific needs of pavements or facades subjected to climate changes. However, we strongly recommend the use of MyRock for outdoor areas, as it offers greater resistance and durability.
Regarding the application of microcement outdoors, it's important to take into account the specifics of each surface. In the case of walls, it's advisable to apply a double layer of microcement to ensure a resistant and lasting finish. For floors, the process is slightly different, and the use of a fiberglass mesh and primer on the future microcement floor is recommended, followed by a layer of unpigmented MyBase microcement and two layers of already pigmented MyRock, to finish with a protective sealer.
In summary, outdoor microcement is an excellent option to create modern and elegant environments. Choosing a high-quality microcement, like MyRock, guarantees the necessary resistance, durability, and safety in outdoor areas. If you're considering renovating your outdoor space, don't hesitate to consider the use of microcement and at MyRevest we will be delighted to help you choose the best option for you.