Microcement Bathrooms, the decorative style that comes home
New trends in decoration and interior renovation move away from rustic materials and lean towards straight lines, which provide a modern style to walls and floors. And if we're going to give the house a new style, why not start by covering the bathroom withmicrocement?
After all, it's one of the most used parts of the home and suffers the most wear and tear over time. Some bathrooms, with a small touch-up, can be completely transformed and gain personality. Microcement emerges as the most suitable material to lead this transformation, as it offers many decorative possibilities that allow you to renovate a room with minimal impact.
Think about the bathroom you wanted, a space where you can relax while you get ready to go out or where you can take a hot shower to leave behind a stressful day. It's time to imagine what we want the bathroom to be like...and the first thing is to think about removing everything that is not necessary. This idea leads us to a minimalist space easy to pick up and clean.
Microcement in the bathroom to forget about debris
Opting for a style of continuous spaces leads us to think directly about themicrocement bathrooms, a material that allows to renovate this intimate space without the usual inconveniences caused by debris removal. The application of microcement is done without generating uncomfortable dust clouds and without the need to undertake refurbishment projects that drag on over time.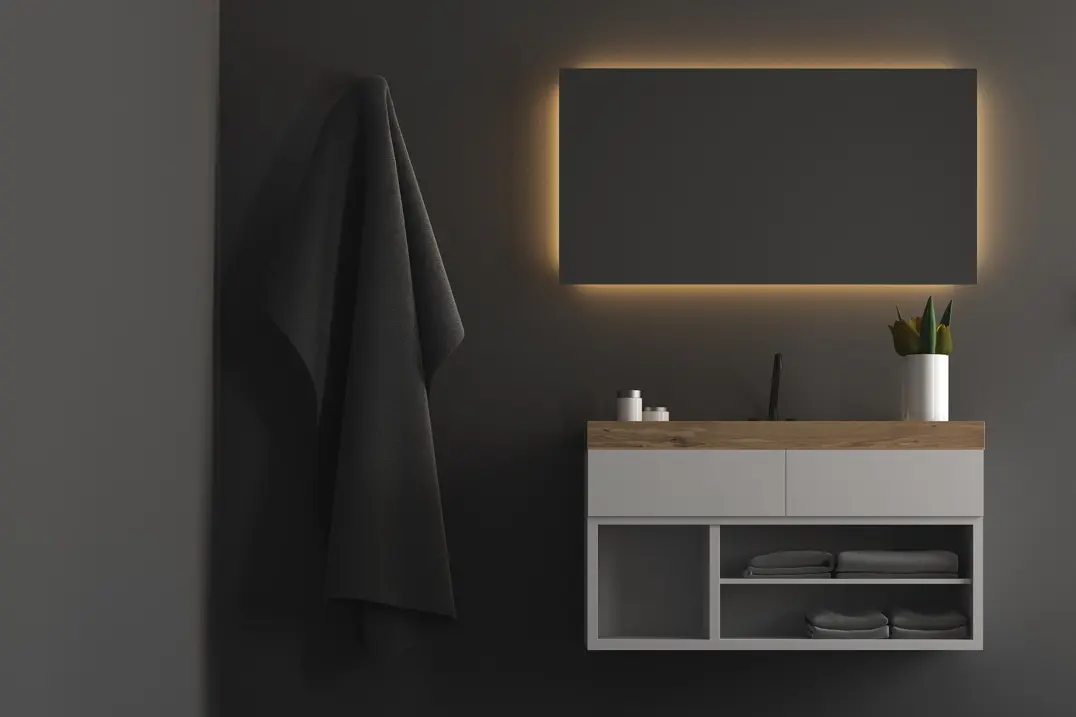 Microcement in the bathroom amidst a decoration with dark tones on the walls
Debris is history with this coating, which is applied by hand in thin layers without having to chip or remove the existing surface. There is no need to cut doors, or modify the level of the floor. The microcement coating is perfect for achieving modernity and sophistication.
Microcement sinks are an opportunity to achieve a pleasant space based on a minimalist design. The superfluous is left behind to find balance through the simplicity of the elements.
The exquisiteness and functionality offered by this coating is combined with straight lines and open spaces.
The 5 major advantages of microcement in bathrooms
By applying microcement in bathrooms, we are endowing the room with properties unreachable for other materials. Thus, in addition to a great breadth given by the infinite spaces, easy cleaning and maintenance, and high chemical and traffic resistance, this coating has three features that make it unique to apply in bathrooms.
Non-slip floors to take care of everyone
In addition to avoiding debris and achieving a quality support, there is one reason above all others that makes microcement the perfect material for covering a bathroom. We are dealing with a coating with which a non-slip finish can be achieved.
Being an interior space, this non-slip property can be achieved without the need for a rough texture. A medium grain finish and the application of a non-slip varnish is enough to have a safe floor that prevents slipping.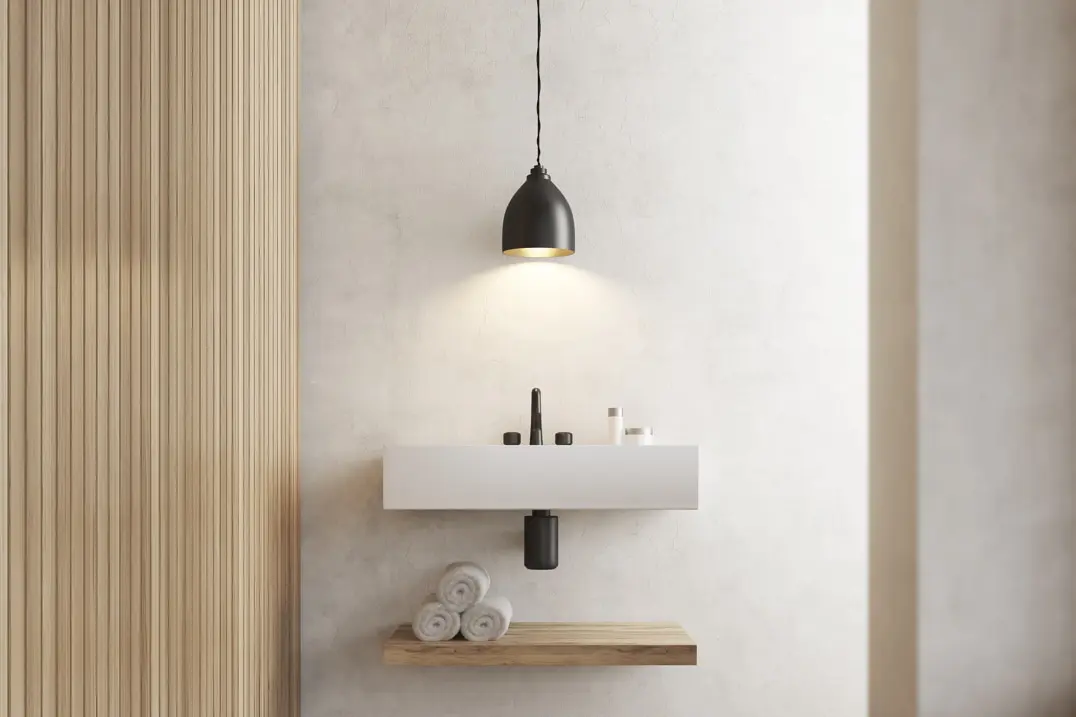 Microcement bathroom with light tones in a clean and natural environment
Microcement in bathrooms brings the light
The finishes represent a whole challenge for the installer, since depending on the effect you want to give to the microcement bathroom, you can choose between the brightness of shiny finishes or the naturalness of matte tones. You can also opt for the balanced design provided by a satin finish.
In this image, the microcement enhances the contemporary style by creating a covering on the wall that perfectly integrates with the rest of the elements in the room. The neutral tones of the wall complement the floor tiles to conquer the light.
Aiming for total waterproofing
Microcement has, by default, a great resistance to running water. And not only this, but it allows it to become fully waterproof if the last layer applied is sealed with varnish. Thus, contact with running water and humidity will go from being threats for bathroom surfaces to normal consequences of bathing.
The cleanest room in the house
Microcement in the bathroom is a guarantee of hygiene due to the absence of joints, which greatly facilitates cleaning. Just a damp cloth and neutral PH soap are needed, although the surface will occasionally benefit from maintenance wax to maintain its shine.
If the product has been applied professionally, it will not take any extra work to maintain it so that the decorative coating stays as new.
Microcement bathrooms with a unique aesthetic
Microcement on the walls gives a new life to a modern and cozy bathroom. The uniform finish creates an unparalleled and unique aesthetic.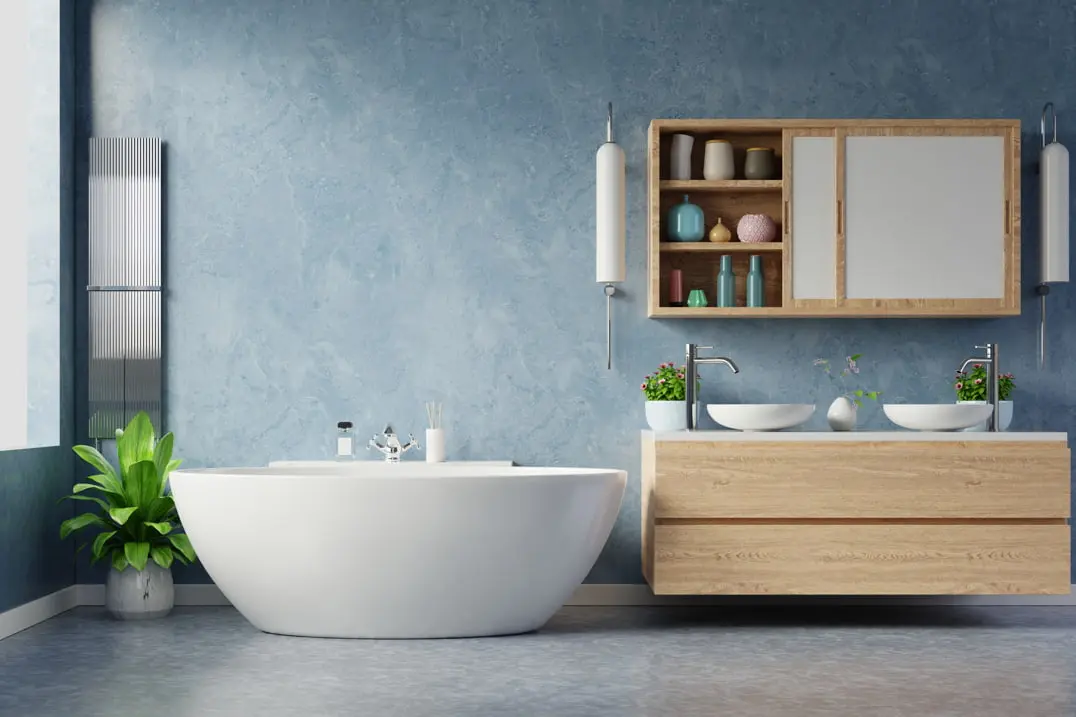 Microcement in the bathroom with a piece of wood on the wall
A variety of finishes are closely related to the installer's signature, who can opt for a smooth finish or choose marked textures. In this bathroom, textures gain prominence in the midst of open-space decoration.
The microcement on the walls gives a new life to a modern and cozy bathroom. The uniform finish creates a unique and unmatched aesthetic.
Colors for microcement bathrooms
The high performance of microcement for bathrooms is enhanced by the variety of colors this decorative coating allows. The color range offered by this material covers tones and colors to suit all tastes.
Thus, it has a range of shades capable of adapting to any decorative style and to the environments that users require. What is your favorite color or the one you think might fit your bathroom best? Don't worry because, whichever it is, you will be able to choose it and color your surfaces with it, thus achieving the atmosphere you've always dreamed of in a room as special as this one.
Next, we provide a slight sample of the sensations that can be achieved in a bathroom, simply, with the choice of color.
Microcement bathrooms in white
The color white in microcement bathrooms is an excellent option to enhance the brightness of the room. Pigmenting the decorative coating with this tone is a success to achieve a clean and modern bathroom.
White microcement bathrooms: they always shine
The color white in bathrooms is an excellent option to enhance the brightness of the room. Pigmenting the decorative coating with this tone is a success to achieve a clean and modern bathroom.
Black microcement bathrooms: elegance in the sink
Black is the color par excellence of elegance. It adds robustness to the microcement bathroom. Few colors are as distinguished and offer so much class to decorate or revest. A good resource is to combine it with white or brighter tones like gold and silver.
Beige microcement bathrooms: sophisticated warmth
Beige has become one of the trending colors of microcement when remodeling a bathroom. Its entire color range can combine with other colors and create spaces where elegance, sophistication, and hygiene are breathed.
Grey microcement bathrooms: minimalist toilets
Grey is the color of microcement by nature. It is one of the most sought-after shades, as it is ideal for achieving everything from a minimalist bathroom style to a more vintage touch. With it, these spaces become more refined, mixing modernity and elegance.
Bathrooms with especially inspiring microcement
Whether the wall or the floor is covered, the microcement applied in bathrooms creates the sensation of a blank canvas for designing minimalist and personalized spaces.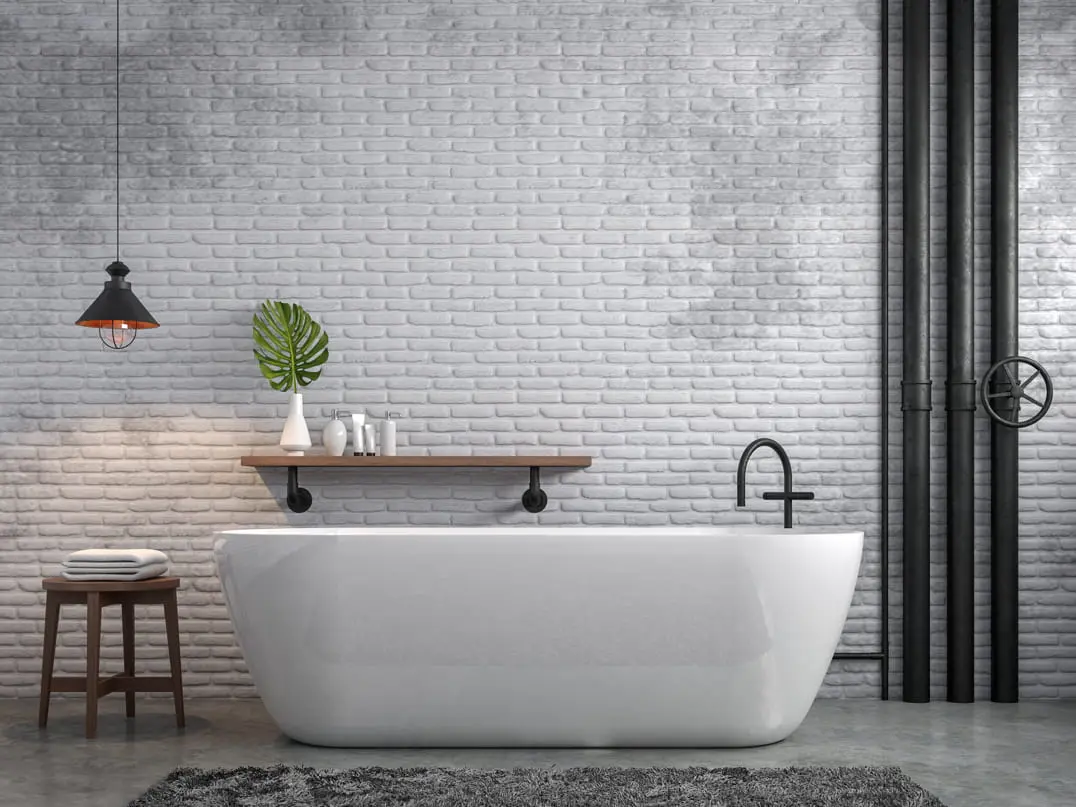 Microcement bathroom with an industrial style that enhances the decorative floor covering
It is a material on the rise that is especially important in this part of the house, which typically has a more limited space. However, with the microcement coating it will take on another dimension and have a more seductive finish.
Open bathrooms with backlit mirrors
Having the bathroom integrated in the room is a privilege that everyone would like to have. Therefore, for those who already enjoy it we are going to give advice to make it even more so. How? Opening it. Joining it spatially with the bedroom as if the two rooms were one. For even greater enjoyment, if the floor or microcement walls are grey, we also recommend using backlit mirrors as main decorative elements, which will add warmth to the overall space.
Microcement and wood bathrooms
Although it's true that microcement combines with practically all materials, with wood it does so perfectly. The combination of the two multiplies the decorative value of the bathroom and creates a simple and very clean space. The combination of both materials separately increases the sense of spaciousness and creates an atmosphere of sophistication and modernity.
Professionals can apply microcement to the walls or floors of the bathroom and leave the wood for the furniture or lamps. Whatever the combination, with this duo it's impossible not to achieve a magazine cover-worthy bathroom.
Bathrooms with raised furniture
This is a way to make the bathroom, as a space, breathe. If it is small or, simply, lacks a bit of air, we advise you to choose floating furniture and sanitary ware. This will make it visually appear much larger. To give it the final touch, with a large mirror and a wooden-toned bench to support or even store towels, it will be a spectacular stay.
Where to apply microcement in bathrooms: a thousand options for any surface
The aesthetic and functional possibilities offered by microcement are a good reason to consider cladding this part of the house. Its perfect combination with other materials and decorative styles make it the ideal decorative coating to achieve sophisticated spaces.
Microcement bathroom with walls clad in grey tones to enhance the Nordic decor of the room.
It is a material that can refresh any bathroom, as it is suitable for both partial renovations of old sinks and new projects.
You can apply it in many spaces and surfaces, so from MyRevest we are going to give you a series of ideas about where to apply microcement in bathrooms that you can take as inspiration. Don't miss the opportunity to turn it into something more than a place to groom yourself.
On walls and floors
As we explained at the beginning of this post, thanks to its anti-slip properties, microcement is the best option for bathroom floors. For this material, damp areas have stopped being a problem.
In the case of walls, when applying this coating a continuous flooring is created that will give the bathroom a feeling of spaciousness that no other material will provide.
Another of the facilities it provides to professionals, is that microcement can be applied in a bathroom over existing tiles and slabs. There is no need to remove them, this coating adheres perfectly to the already placed materials.
In the sink
One of the major benefits offered by this material to professionals who want to coat sinks with micro-cement, is undoubtedly its great resistance to temperature changes and the wear and tear typical of rooms such as the bathroom.
In addition to being a coating that, thanks to the absence of joints, is easily cleaned and maintained, it presents a wide range of aesthetic finishes that can be customised down to the last detail. Professionals can achieve metallic and even rusted results, they can even recreate a rustic style by embedding the taps in the walls.
In bathtub and shower
As is the case with floors, a sealing layer can be applied to micro-cement, transforming it into a non-slip material, ideal for application in shower trays and bathtubs, thus preventing users from slipping. What's more, as it lacks joints like tiles, there is no accumulation of dirt and its maintenance is much easier.
With this coating, professionals can create freestanding bathtubs with or without legs and recreate the decorative style that is revolutionising the sector. This type of bathtub has the advantage of being adaptable to any environment because they are independent of any wall.
On shelves
Micro-cement is such a versatile and flexible material that it can be applied on any support. Professionals can coat the bathroom furniture to give continuity to the general decoration.
Thanks to its unlimited aesthetic possibilities, this coating is able to adapt to any decorative style.
Micro-cement price for bathrooms: artisan value
The cost of carrying out a renovation with this material is directly affected by factors such as the condition of the surface, which areas will be applied, the square meters to be coated and the cost of specialised labour. However, we can know in an indicative way that the price of micro-cement ranges between 60 and 100 euros per square meter.
It is also very important to take into account that microcement has a very specific characteristic that allows it to differentiate itself from other coatings at first glance: its manual application. Thus, to coat it, the best professionals put all their experience and know-how to achieve finishes that can only be achieved through this type of application, which does not seem too high for the achievement of a bathroom with microcement, considering the level of customization and the resulting exclusivity.